Children and young people make up a large part of our church so if you are looking for a church in north London we hope that yours will find a place where they feel at home here.  Our goal is to make friends of Christ, who bring friends to Christ. We run a whole range of activities for children and young people as we aim for that. You'll find details here, and for more information please email Kerry in the office.
Sunday mornings
Children and teenagers are a big part of our morning service and we have age-appropriate activities for all. Our teaching syllabus is structured around the resources available from Mustard Seeds Ministries, and we aim to cover the whole Bible over a four year plan.
Creche – Ages 0-2
Scramblers – Ages 3 – Preschool
Starters – Reception-Year 2
Followers – Years 3-6
Pathfinders – Years 7-9
Exiles – Years 10-13
Midweek clubs
During the week we want to give our children and teenagers a place local to NW3 to have fun, but also to bring their friends to hear more about Jesus.  All these clubs meet in the church undercroft midweek during term-time only.  Please check the age groups as these have changed recently (underlined where changed):
Mini Mischief
Babies & Preschoolers
Thursdays, 10:00-11:00am
Awesome
Reception to Year 6
Fridays 4:00-5:00pm
(please email David Rue at [email protected] to check availability)
Engage
Years 7-9
Fridays 7:00-8:30pm
holiday clubs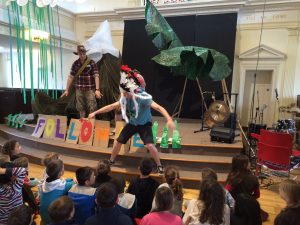 Every Easter we run a Holiday Club to share the good news of Jesus with children from the Hampstead area. A team of leaders from the church take the children on an adventure through different themes – for this year's, Mega Makers!, the church was transformed into a giant science lab for a week of songs, silly games, crafts, Bible stories, and other activities.
unite 

Once a term we get together (or… Unite!) with youth groups from other churches in north London to put on a big event for teenagers. Our aim is to show them that as Christians they belong to something bigger than our groups, and to help them connect with other Christians their age who perhaps even go to the same school as them.
SAFEGUARDING
We take issues of child protection very seriously; as such, all our clubs are overseen by people who have been DBS checked. To see a copy of our child protection policy, visit our documents section, or email the church office.