For those who know Christ and express a desire to attend regularly, our midweek small groups are a vital part of church life at St John's. Smaller groups of church members meet to pray together, encourage each other, share concerns and discuss the previous Sunday's talk, and to apply God's word to their lives. This is the best way of getting to know people in the fellowship, as it's hard to form strong friendships on the basis of Sunday services alone.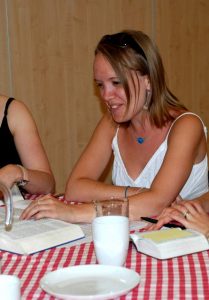 We have a variety of groups to serve a variety of needs. Wednesday Central small groups benefit from receiving a hot meal, a short topical talk with a chance for Q&A, before we then break into groups for discussion and prayer.
We also have midday groups for mums, as well as a Saturday men's breakfast for those who find midweek difficult. We also encourage our youth and children to be involved in midweek groups.  Contact Andy for more details of any of these groups, or ask on a Sunday.
On the first Wednesday of each month, all the small groups come together at 7:30pm for fellowship over a meal, to sing praise, and to pray.  Our pattern is to give thanks for his work amongst us, before petitioning him for the needs of the church, our mission partners, and believers around the world.